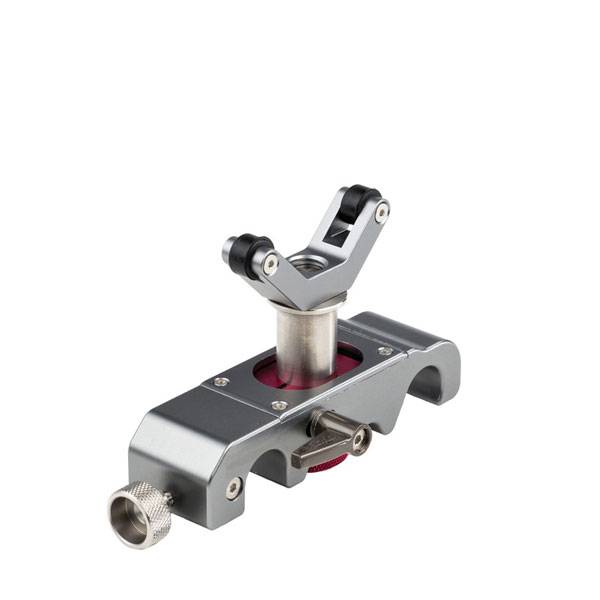 SUPORTE DE LENTES ZOOM TILTA LS-T05 (15mm)
Rod Clamp Type Snap-on LWS 15mm
Horizontal Adjustment 0.25" / 6.4 cm
Height Adjustment 0.4" / 10.2 mm
Dimensions 7.3 x 2.0 x 1.6" / 185.4 x 50.8 x 40.6 mm
Weight 0.34 lb / 0.15 kg
his Tilta 15mm LWS Rod Lens Support features a snap-on design allowing you to mount/unmount the support on your rods without having to remove other rod-mounted accessories. The lightweight anodized aluminum support features a knurled thumbwheel to provide extra grip when tightening or loosening the lens support shaft.

The lens support features 0.25" of side-to-side adjustment and it incorporates a spring loaded locking lever that allows you to tighten or loosen the lens support shaft even if the lever is blocked from turning a full 360°. The support shaft is adjustable from flush with the top of the support to 0.875" high and incorporates a 3/8"-16 threaded mounting stud. The lens support includes a 1/4"-20 lens support adapter and a Y-lens support adapter.

The lens support features a height adjustable post with a 3/8"-16 threaded mounting stud. An included 1/4"-20 adapter allows you to support lenses that feature a 1/4"-20 threaded mounting hole. The included Y-adapter supports lenses that do not feature a threaded mounting hole by allowing the lens to rest on the supports rollers.