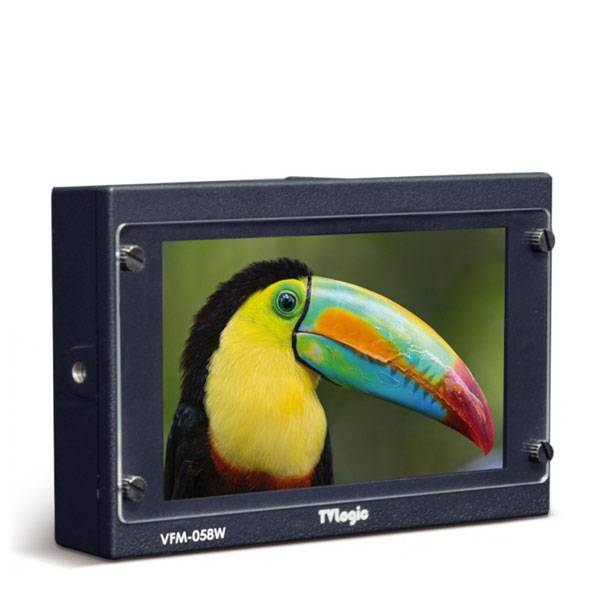 MONITOR TVLOGIC VFM 058W 5.5
Display Spec.
Size 5.5"
Resolution 1920 X 1080 (16 : 9)
Pixe Pitch 0.063mm
Color Depth 16.7M
Viewing Angle 160°(H) / 160°(V)
Luminance 450cd/m2
Contrast Ratio 1000:1
Display Area 121(H) × 68(V) mm
Input
1 X BNC 3G-SDI A Channel Input
1 X HDMI HDMI Input
Output
1 X BNC 3G-SDI Output
1 X HDMI HDMI Output
Audio
Audio In Embedded Audio/Analog Stereo (Phone Jack)
Audio Out Analog Stereo (Phone Jack), Internal Speaker(Mono)
FPGA Functions
, 3G-SDI Level A/B, Audio Level Meter Display, Blue Only, Focus Assist, H/V Delay, H/V Flip, Key Lock, Luma(Y') Zone Check, Marker, Max Brightness On/Off, Mono, Range Error, Temperature Adaptive Color, Time Code Display, User Aspect, Various Scan Modes, Waveform/Vector, Zoom
Closed Caption
Calibration
Other Functions
USB Firmware update by USB cable Firmware update by USB memory stick
Ethernet
Conversion HDMI-to-HDMI, HDMI-to-SDI, SDI-to-HDMI, SDI-to-SDI,
The VFM-058W, the lightweight viewfinder monitor, offers an outstanding picture quality with 5.5" LCD, and Full HD resolution of 1920 x 1080. Innovative and ergonomic design of VFM-058W makes you comfortable in the shooting environment and its light solid magnesium case achieves the highest efficiency of ventilation. The VFM-058W supports multi-formats including 3G/HD/SD-SDI and HDMI that offers a wide application range from DSLR cameras to Pro camcorder for broadcasting and movie shooting. The VFM-058W has various features such as Max Brightness function, Temperature Adaptive Color, HDMI-to-SDI conversion output, 1:1 pixel mode, Luma(Y') Zone Check function, DSLR Scale, Waveform, Vectorscope, Range Error, Focus Assist, Markers, Audio Level Meter with speaker and time code display.